Have I mentioned I love Fridays? I've been looking forward to this weekend for a few weeks now. Because
1. My high school Marching band is competing against Abbey's marching band tomorrow. Sadly there is no real competition. My Alma mater hasn't been good for quiet some time. It makes me sad, but what are you going to do? It will be nice to see all my old friends who are now band parents.
2. Its festival weekend in the town I live in. Which means my sister will be in town setting up her Civil War camp, although I am stealing her away to the band competition. It also means the main street to my road is closed for the craft booth so I have to drive a detour.....not fun!
3. I bought some new boots. I love them sooooo much.
4. Greg bought this wagon to haul equipment to the field when his band performs.....I am begging him to pull me around the yard. I'll let you know if he agrees to it. On a side note. I got to see his former assistant last weekend. I miss him and his wife SOOOOOO BAD :( I was hoping that we could have been a tight group FOREVER. His job change has really depressed me. Greg doesn't want to hear it, so I'll complain to you. I have no one to sit with at his competitions now. I have to sit alone. Because apparently he still has parents that hate me. In a way I take pleasure in their hatred of me, because they think about me more than I do them. I just hate being alone. I am not a loner. I need a crowd to entertain.
5. The trees are changing color and the temperature is what I like to call, light jacket weather. Its the absolute best time to be living in Kentucky.
You can see a glimps of this is the mirror of my car on number 2
This was taken about 2 weeks ago. The trees are a lot prettier now..... and I love the skid marks on the road. Obviously we don't know how to drive down here.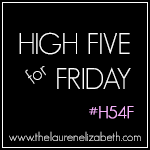 and of course I am linking up with Lauren Elizabeth today