You may have noticed that I get annoyed easily. There are just some things I can't handle. I've decided to compile my list of the worlds most annoying words and phrases. If you know me in real life, you know I say most of these. You also know I have a double standard.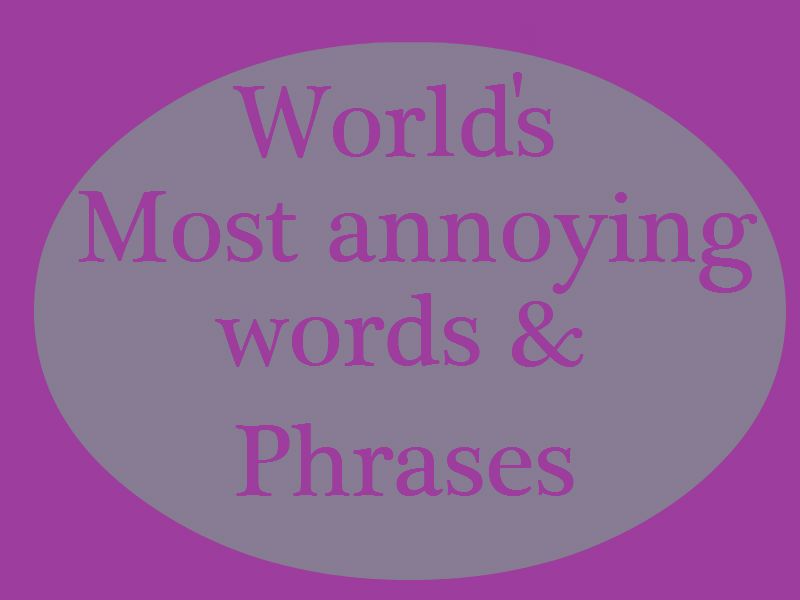 That is the world's most, according to me.
Cool Beans. I understand cool. I don't understand where the crap beans came from. I always want to respond I prefer my beans at least warm.
Its all good. Is it. (or if you are from Eastern Kentucky Saw Good) I'm complaining therefore everything must not be good
Don't sweat the small stuff. Why would I sweat the small stuff? Why would I even sweat?
Sometimes the next line to that is Its all small stuff. You know what It is ALL most definitely NOT small.
Welcome to my world. Really your world? I thought it was mine
That's what I'm saying. Yup I know it is I heard you say it
Shake N Bake. I'm thinking no one says this anymore. But a friend of ex husband #2 left a message on our machine once and he said it about 4 times. I felt it was 4 times too many. Unless he was actually cooking with shake n Bake. Then its ok.
It is what it is. Really I thought it was something else
Whatever. The ultimate dismissal.
Talk to the hand. I'd rather your face talk to my fist.
That's what she said. Ugggh this got old the first time I heard it. I bet she isn't saying anything because you are lame
Ya know what I mean. Nope I probably don't
I run this town. Oh hello I didn't realize you were the mayor
You can say that again. Nope I'm lazy I've already said it once and that was enough
My bad. Again I want to punch you, can't you just say I'm sorry or excuse me or any other appropriate phrase
Itch my scratch. I hear this and I want to jab my ears out.
Ain't nobody got time for that. You know what else people don't have time for? This saying. nevermind the fact that I say this all the time.
Literally. when it is in fact not literal
True Story. I say this A LOT. It doesn't make it any less annoying.
I am not a happy camper. You know what? I hope to never be a camper because I guarantee I won't be happy.
What are the phrases that annoy you the most?