Stephanie at Bourbon and Glitter nominated me for the most original award I've ever seen. I feel flattered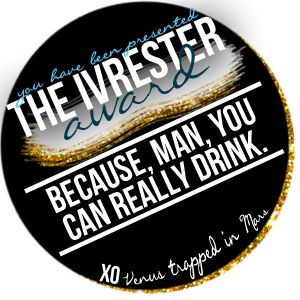 "Translated this means Drunk (in French) + added the ending 'ster' (because we are a classy bunch and French is classy)
Rules:
Acknowledge who nominated you
Answer the
10
questions listed below
Nominate
10
bloggers you think are excellent drinkers
You can't nominate the blog that nominated you
Don't make any more questions, everyone just answer these questions below
If you are nominated, just answer the questions and nominate
10
more people. That is it."
Questions:
What is your favorite drinking game and why?
Any shot game... drink so many shots because (fill in the blank) happened.

It is your birthday, what is your idea of the perfect evening?
Aside from shopping all day and then going out for some sinfully fattening food because calories don't count on your bday, I'd have to say a party at any of our regulars house. I'd name names but they are all teachers who pretend they behave.
Money is no object, what is your go to drink of choice at a bar?
Money or not I prefer Jager to ANYTHING.
How many times have you played the game "Edward 40 Hands"?
never
Alcoholism Screening Quiz