So last night was the first PTO (Parent Teacher Organization) meeting for the middle school. You are looking at the Vice President. So are you wondering what was so awkward about this meeting? Let me paint a pictures......
A few years ago I was 17 and a high school senior.....Yes I said a few years :P I was dating a guy that was several years older. He had a good job and bought a place beside his parents and asked me to marry him. I said no that I didn't want to live in that town for the rest of my life...(ironically Greg lives in that town and I am there ALL THE TIME) We dated until I left for college and then split up. He started dating and then married a girl I had senior seminar with.
This was me (and his hand at prom.)
and for good measure a pic of me my freshmen year at college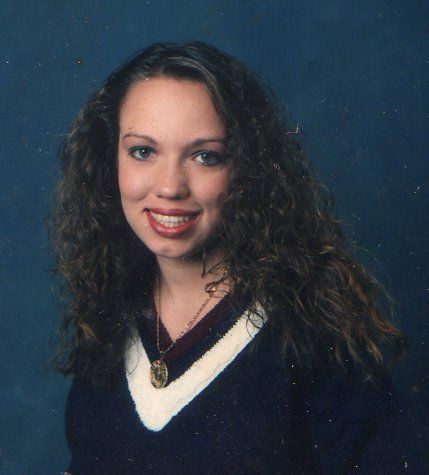 Are you still guess what was so awkward (not counting the blast from the past pics)?
He and his wife moved to the town I live in.....and she was at the meeting. Actually she holds an office as well. So now I get to continue seeing her and possibly him some too.
The meeting was a great first meeting. There will be all kinds of great things happening. I am super excited about. Stalking ex's is NOT one of them. It was interesting to see 3 full sets of parents at the meeting. I like when Dad's get involved. Although it kinda made me sad. When the girls dad and I were married he didn't go to meetings like that with me. He would go to school programs and important meetings with teachers. I wish I had that kind of relationship. But that being said. There is something good to say about coming home at 9 and snuggling on the couch with lovey balls of fur while eating bagel bites, and watching sappy movies on Netflix. Because that is exactly what I did.