Sooooooo happy its Friday. Here is 5 awesome things from the week.
I made the ranch/Italian dressing roast that is all over pinterest this week. The girls love it. Its become a kid favorite.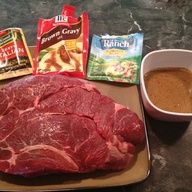 2. Walmart started selling my favorite brand of nail polish and I am now 5 bottles richer. I hate living in a town where my only shopping choice is walmart. Although I should be grateful there are actually counties around me that don't even have WalMart.
3. Abbey has her first ballgame tonight marching with the highschool. I am so proud of her.
4. Emmy and I have a pic nic on the playground at her school tonight before the ball game the girls have a friend staying all night tonight and then tomorrow.......
5. We are going to the zoo. I love the zoo. The polar bears are my faves. We are also going to the art museum. WoooHooo. I am so excited.
Also I guess it goes without saying its a long weekend. Boy am I excited about laying around in my pj's all day Monday.
Linking up with Lauren

3