My crappy internet service this week has really put a hamper on my link up this week. So I am so happy that I am at Greg's and can steal his internet for my Sunday Social link party.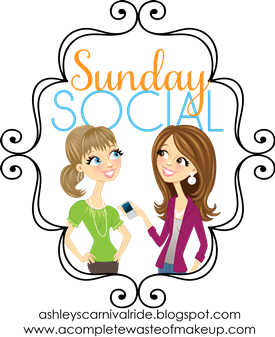 What is your all-time favorite song?
I don't have A favorite song. I am really random in what I listen to. My dad was a DJ as I was growing up so I was exposed to just about every genre of music you can imagine. One of my favorite songs is Enter Sandman by Metallica. I would sing it to my girlies when they were babies only I would sing it as if it was a lullaby.
What is your favorite singer/band?
My awesomely cute boyfriend Greg! Everything he sings sounds better to me than the original. Ok next favorite is Metallica, I should add only the old stuff though if you play me something from St. Anger I'll run screaming. I do love RISKAY and of fairly current people I like Jamey Johnson, I have a total love for Johnny Cash,
What is your theme song/song that best describes your life?
I always joke that if I had a theme song that played when I entered the room it would be the imperial death march
What songs put you in a good mood?
Not so much a what song as what TYPE of song. It has to be something with a beat. If its a slow or sappy song, I'm not going to be in as good a mood as if its something with a good beat.
What is your favorite road-trip music?
Something I can sing to. I am currently singing loudly and off key to Theory of a Deadman. everything on the The Truth Is cd is awesome
What song are you embarrassed to admit you love?
Give in to Me from the Country Strong sound track. I know I am so lame. I don't even really like most new country but for some reason I really like it. I like the movie to