I usually only do a link up on Monday, Wednesday and Friday's but this looked fun so here it is my Sunday Social link up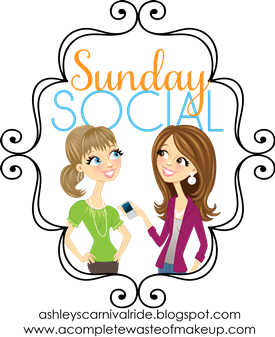 How did you come up with your blog name? I had been kicking around the idea of starting a blog. I use to write ALL THE TIME.I also use to write for moms today (back in 2001-2006 ish) That was before I ever heard of a blog. The principal was the same though. When the iparenting sight that hosted my (diary) ended I just gave up writing. I had thought about starting a blog several times but didn't want to be stuck writing about just parenting or just fashion etc. So finally I decided to give it a try and a coworker helped me go through names. She liked since my last name is Grass we could play on that. So We chose the Grass is Always Greener which I love because it could be so many other things.

What is your favorite thing about blogging? Writing again and the comments that let me know I'm not just typing to myself

What is one thing you have discovered because of blogging and now cant live without? Well I'm still fairly new and I haven't found that yet. But I am thinking I must get a phone that lets me use instagram because I am so jealous of the pics

Facebook or Twitter? and why? I have a fb and I also have a twitter than I never use. I can see the benefit of both but honestly I am hating all the spam like pics that get put on FB and the drama I really don't want to read an argument between fighting couples

If one celeb read your blog who would you want it to be?Lars Ulrich. The drummer from Metallica. I adore him. I want him to hang out with me and let me play his Tama.

What is something you want people to know about your blog? I am completely random. I may never write about the same subject twice or I may dwell on something for weeks. You just never know with me.